Source: SVial
In honor of Bleach mangaka Tite Kubo's recent wedding, we should take a moment to honor his greatest subset of characters ever formed, the peace-loving Arrancar of Hueco Mundo. Before Aizen swept into their realm to ruin their lives with his insufferable tea parties and rugged good looks, the Arrancar, then only Hollows, enjoyed a contented existence roaming Hueco Mundo, terrorizing humans, and eating other Hollow in order to level up and become beautiful Adjuchas and Vasto Lordes. Though their lives were fraught with peril, and were otherwise rather boring, they at least didn't have to be concerned with the prospect of juvenile Hollow-haters breaking into their homeland and giving them a thorough butt-kicking.
Transitioning into becoming Arrancar was no simple challenge. Not only did they gain a whole slew of new powers, but they were also forced to become best friends and colleagues with not only one another, but with the dynamic traitor trio of Aizen, Gin, and Tousen. And as soon as they got somewhat used to their lives as killing-machines, they were ordered to do actual killing against the most resilient of all enemies: the Soul Society and Ichigo Kurosaki. With such an impossible task on their plates, its no wonder they suffer through a whole magazine subscription of issues.
Luckily, everyone's favorite members of the Arrancar gang have compiled their most valuable tips and words of advice for anyone looking to join their numbers in the future. In fact, since most of them were eliminated in the attack on Karakura town, all but one slot is still waiting to be filled by worthy Hollow. Long live Grimmjow!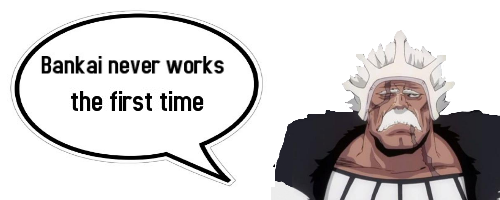 Captains train for ages to achieve Bankai. It's the pinnacle of being a Soul Reaper. It's the biggest move, the grand finale, the last thing a bad guy sees before he's eliminated for good. But good news for Arrancar: Bankai never, ever, EVER work the first time they are used on one of the top members of the Espada. Even if Soi Fon is pointing a bankai the size of a bazooka at your face or Hitsuguya is sporting wings out of his back and sending you to icy oblivion, it won't manage to kill you. In fact, it will give you ample time to observe how their bankai works so you will be guaranteed to avoid it next time it is used in order stretch out the skirmish for another ten episodes. And that's even before an Arrancar's own bankai, or resurreccion, is unleashed. So much for all that training, Soul Reapers!
It's a rough life being an Arrancar. Between having tea with Aizen and putting up with Grimmjow's temper tantrums, a guy deserves a break to spoil himself and look amazing in his fetching white Arrancar uniform. When bumbling oafs like Uryu and Renji get it in their heads to singe your uniform in attempt to kill you off for good, it is completely worth your time to put the fight on hold and abandon the battlegrounds to put on a fresh new outfit for the next fight. With a neat and flawless appearance, you'll come back stronger than ever, and even if you do get knocked out, at least you'll go down looking like a star!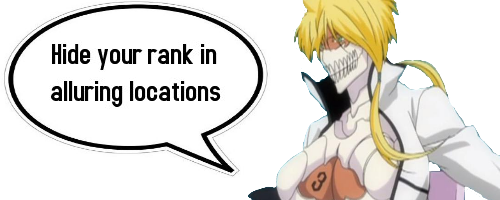 Every member of the Espada, the top nine Arrancar working under Aizen, receives a tattoo of their rank somewhere on their body. Some disguise it on their tongue or hand or back, but having a whole body at your disposal for the canvas provides a few more fascinating options. Bleach is a bit low on fan service with the endless number of small chested gals like Orihime, Rangiku, and Yoruichi, so to spice things up, why not try experimenting with places that will make the boys go hubba-hubba when the big reveal happens? After all the previous lack of sexualization on the show, they'll thank you for it!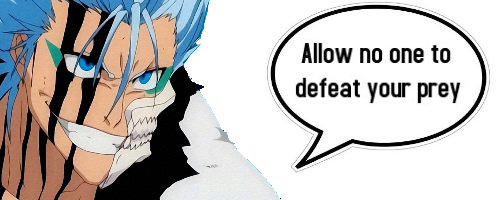 The man you owe a debt of revenge to is a very special person. So special, in fact, that it's unforgivable to allow him to be killed by anyone else other than you. Sure, you want him dead more than anything. Sure, it is somewhat thrilling to see his dead body left behind with a gaping hole courtesy of resident emo-Arrancar Ulquiorra. But darn it, you just can't get any real satisfaction out of his death as long as you weren't the one to cause it. To assuage this feeling, recruit your prey's devoted lady friend and her god-like powers to bring him back to life so you can kill him yourself. Even if you can't kill him and end up nearly dying yourself, at least you gave it your all!
When you're not too thrilled about your position as a number one Arrancar, it's not hard to watch your comrades die. You never really liked them all that much in the first place, and if they can't stand up to a Captain's bankai, even though they survived it once already, they really don't deserve to live. But perish the thought that Aizen cares even less about his subordinates dying! After all, he's the biggest jerk of every realm combined and has an ego the size of Ichigo's zanpakutou; he should be bawling manly tears of manliness every time one of his beloved Espada is killed by a Soul Reaper. Not that you would ever be sad over an Arrancar dying, but Aizen really should let his emotions loose rather than standing around and smiling like he's attending a particularly enthralling movie.
Not everyone can be as beautiful as Szayel and Coyote Starrk. When fate decides to hand you a tank instead of a head, there's little else you can do but improvise. Luckily, the little Soul Reaper girl fighting you has a guilty conscience over a handsome Soul Reaper she was forced to kill in the past. Why not borrow his stunning features for a few hours so you can fight with style? For the purpose of psychological torture, of course. The black hair and dashing grin will really set off the frilly collar of your uniform.
Some people do all the right things and still get the short end off the stick. Even if you spend your time as an Arrancar doing terribly nice things such as turning a fellow Espada into an adorable little girl by whacking her on the head, or fantasizing about doing unspeakably naughty things to the busty red-head Aizen has kidnapped from the mortal realm, all your efforts will be for naught. You'll still be unappreciated, repeatedly trounced by the Arrancar you envy the most, and trapped inside a white costume resembling a giant spoon. Some guys just can't catch a break!
If you're ever forced to baby-sit the helpless human dragged in from Karakura town, never fear. Even if you taunt her repeatedly, massacre her friends, diminish her reason for existence, and play mind games with her every chance you get, she'll still be the first person in line to try to save your life with her event-reversing powers. Her mercy is as boundless as your cruelty, and she'll take everything you give her without a fight. It's no wonder Arrancar simply cannot understand their human enemies.
The truth of the matter is that no matter how tough of an Arrancar you are and how many tricks you have up your sleeves, the good guy Soul Reapers just won't be able to die. The only ones who could be killed were finished off before the series started, and all the rest are given as many lives, if not more, than your average cat. Even if you believe that Aizen will be able to give you the power and opportunities you never had in your life as a regular Hollow, you may want to reconsider joining his side in the first place. He's got bad guy Soul Reaper written all over him, and the good guys are ready to fight however many times it takes.
Article Thumbnail copyright Studio Pierrot
All images sourced from Studio Pierrot and edited by Julie Marie.
_____________________________________
Julie is an avid fan of Asian music, anime, and anything else otaku. She blogs at Quickand2thePointless. Follow her @Qa2thePointless!
comments powered by